Another Packers great
Well, once again I need to thank my bud Mike. He got me another successful Packers address, and I so totally appreciate that! On December 19, I sent a letter with SASE, customized photo paper card, and questionnaire to Packers Super Bowl I and II backup quarterback Don Horn. Today, after the longest three days of my life (how did I make it three days with no mail at all?), I got back my card autographed by Mr. Horn. I wish he'd have filled out the questionnaire, but I guess he was too busy or something. Oh well, I'm still really happy to have gotten the card back. A little piece of the envelope stuck to it because a bit of the glue was touching it. At least it's really small so it's not really obvious.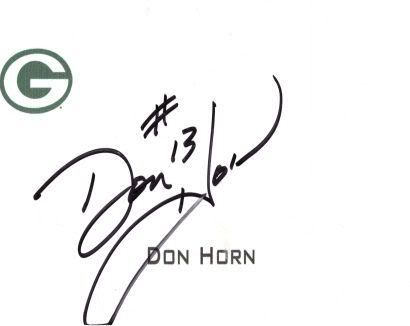 My new site is still under construction, but when it's up and running, rest assured, you'll have the address and sent/received dates!
Until next time, here's hoping everyone's having a good start to 2007!