A very nice success for me yesterday
First off, I need to thank my buddy and fellow Packers fan,
Mike
, for letting me know that this would work. I printed out a customized card on photo paper (as I so often do), and sent it along with a letter and SASE to Kabeer Gbaja-Biamila c/o Lambeau Field, and received my card back signed, along with a football card KGB sent, signed and personalized, and a letter asking for donations to his foundation, which I think is authentically signed as well. It looks as though it may be printed on, or it could be signed. Not really sure. Well, here are the scans.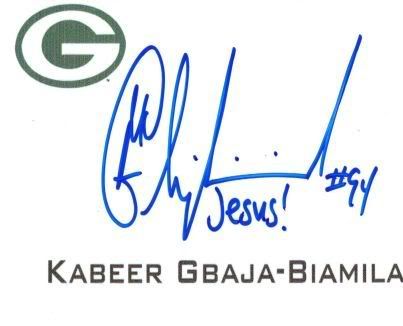 And here's the link to the letter. It's too big to put on the blog.
http://img.photobucket.com/albums/v232/bennyholb/KGB2.jpg
I'm working on a new way to put the addresses and sent/received dates online, so keep an eye on the blog in the next week or so, because there will be a new webpage coming soon.
Until next time.. This is Ben, and that's the way the cookie crumbles.